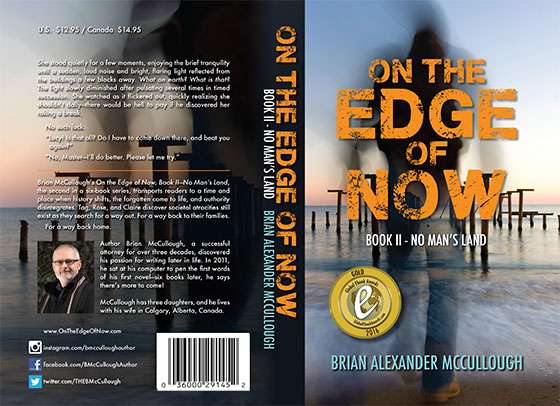 She stood quietly for a few moments, enjoying the brief tranquility until a sudden, loud noise and bright, flaring light reflected from the buildings a few blocks away. What on earth? What is that? The light slowly diminished after pulsating several times in timed succession. She watched as it flickered out, quickly realizing she shouldn't dally—there would be hell to pay if he discovered her taking a break.
      No such luck.
     "Lucy! Is that all? Do I have to come down there and beat you again?"
     "No, Master—I'll do better. Please let me try."
Brian McCullough's On the Edge of Now, Book II—No Man's Land, the second in a six-book series, transports readers to a time and place when history shifts, the forgotten come to life, and authority disintegrates. Tag, Rose, and Claire discover societal atrocities still exist as they search for a way out. For a way back to their families.
For a way back home.